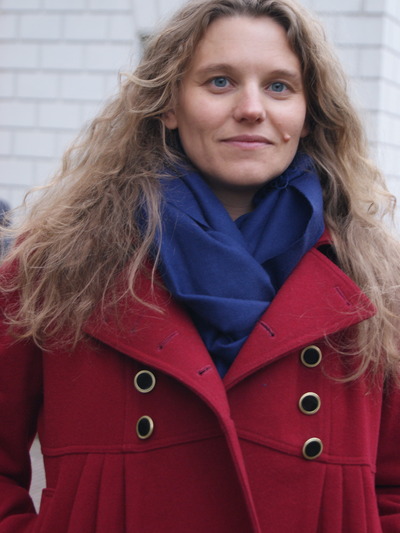 Sarah Van Beurden
Associate Professor
334 Dulles Hall
230 Annie and John Glenn Avenue
Columbus, OH 43210
Areas of Expertise
Colonial and Postcolonial Cultural History
Transnational History
African history
Museum and Material Culture Studies
Education
Ph.D. History, University of Pennsylvania
MA. American Studies, Lehigh University
MA. Modern History, University of Leuven (Belgium)
BA Modern History, University of Leuven (Belgium)
Sarah Van Beurden
Associate Professor
Affiliated with the Departments of History and Art History
Dr. Van Beurden joined the department in the Fall of 2009.  She a historian of modern Africa, with a special interest in the cultural history of colonial and postcolonial Central Africa.
She received her undergraduate education in history at the University of Leuven in Belgium (1999) and her Ph.D. in history from the University of Pennsylvania (2009) and is the author of Authentically African: Arts and the Transnational Politics of Congolese Culture (New African Histories Series, Ohio University Press, 2015) as well as several articles and chapters on topics such as the history of Congo's decolonization, African cultural heritage and museums, the role of cultural politics in development policies, and the reinvention of African ethnographic objects into art. 
Dr. Van Beurden has held fellowships at the Institute for Historical Studies at the University of Texas in Austin and the Käte Hamburger Kolleg and Centre for Global Cooperation Research at the University of Duisburg-Essen (Germany). She is currently also affiliated with the Max Planck Institute for the History of Science in Berlin.
She is currently at work on two new projects. Planning a Colonial Cultural Economy: Arts and Crafts in the Belgian Congo investigates the planning and 'failed' implementation of a cultural economy in the Belgian Congo. The second project, African Art Worlds: The Politics of Culture (1957-1975), explores the impact of African decolonization on the worlds of the African art market and African art exhibitions and museums.
Dr. Van Beurden welcomes inquiries from prospective graduate students in the field of African studies (history, art history and culture studies), as well as transnational cultural studies.
Selected Recent Publications:
Authentically African: Arts and the Transnational Politics of Congolese Culture (Athens: Ohio University Press, 2015)
 "The Art of (Re)Possession: Heritage and the Cultural Politics of Congo's Decolonization" Journal of African History Vol. 56 , no. 1 (March 2015): 143-164. 
 "International Security and Global Cooperation: The Politics of Cultural Property"
Global Dialogues 4 (Dec 2014), 27-30.
 "The Value of Culture: Congolese Art and the Promotion of Belgian Colonialism (1945-1959)" History and Anthropology, Vol. 24, no. 4 (December 2013): 472-492.
 "Internationale Politik des kulturellen Eigentums" in: Sicherheit und Kooperation
Aus Politik und Zeitgeschichte 63- 37 (Sept. 2013) 3-11.
"Forty years of IMNC: 11 March 1970-11 March 2012" African Arts, Vol. 45, no. 4 (Nov 2012): 90-93.