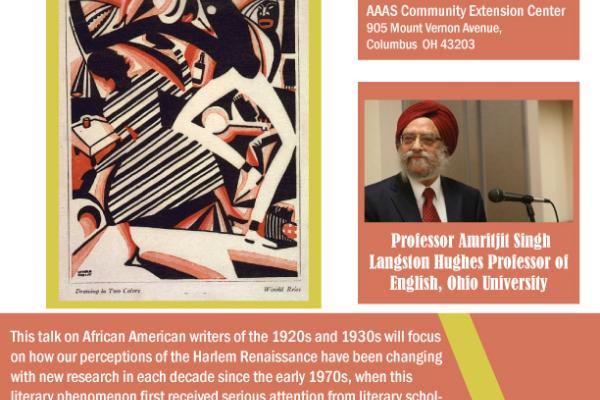 January 18, 2019
All Day
AAAS Community Extension Center, 905 Mount Vernon Ave.
This talk on African American writers of the 1920s and 1930s will focus on how our perceptions of the Harlem Renaissance have been changing with new research in each decade since the early 1970s, when this literary phenomenon first received serious attention from literary scholars and historians alike. In recent decades, we have been sharply aware of the writings by women writers such as Zora Neale Hurston, Marita Bonner, Nella Larsen, and Jessie Fauset as well as the presence of transgressive figures like Wallace Thurman and Bruce Nugent. In conjunction with our analysis of one short poem each by Countee Cullen and Anne Spencer, we will also consider new reading practices and the continuing influence of feminist perspectives since the 1980s.
**** REFRESHMENTS WILL BE  SERVED 
The  event  is FREE and open to the  public. Register for the event here.
---