The Department of African American and African Studies is pleased to announce the Distinguished Lecturere Series Presentation featuring Dr. Jesse Shipley. The talk is scheduled for Friday, 3/28/14. For more information please contact, Dr. Devin Fergus at fergus.24@osu.edu or the Department of African American and African Studies at 292-3700.
Abstract: There is a curiously intimate relationship between parody and celebrity in the era of digital circulation. Parodies magnify and focus attention on power relations, inhabiting and inverting dominant sensibilities from within. The rise of satirical popular music across the globe shows that digital media have enhanced the potentials of parody. Computer production and social media flows of music, memes, and videos create complex networks of mediation that blur the lines between production, circulation, and consumption. The FOKN Bois, an irreverent international hip-hop duo based in Ghana, have built their fame through the potential and power of musical parody. They make outrageous songs that incite both fans and critics to respond with outrage, pleasure, or both. Their satirical style on and off stage has made them famous and infamous in African and alternative European arts circles, while also inciting critical discussions on issues like immigration, racism, and sexuality. This paper explores the significance of musical parody and celebrity for the making of digitally mediated communities.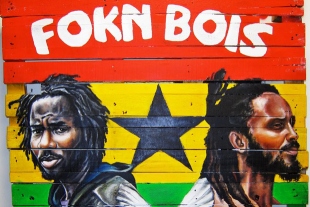 Jesse Weaver Shipley is an ethnographer and filmmaker. He is Associate Professor of Anthropology at Haverford College. His work focuses on performance, popular culture, music, youth, and technology in Ghana and recent African Diasporas. He is the author of Living the Hiplife: Celebrity and Entrepreneurship in Ghanaian Popular Music (Duke University Press 2013). Recent articles appear in journals including Public Culture, Journal of Popular Music Studies, American Ethnologist, Cultural Anthropology, and Social Text. Films include the feature documentary Living the Hiplife: Musical Life in the Streets of Accra (2007), the multi-channel video installation Black Star (2012), and Is It Sweet? (2013).
Dr. Shipley will also do a special presentation of his film "Living the Hiplife" from 5:15 PM – 7:00 PM in Scott Laboratory, Room 48 (201 W. 19th Ave., Columbus, OH).